The recent UN Ocean Conference saw the global campaign for a moratorium on deep-sea mining gain significant momentum. Highlights included the launch of a global Alliance of Countries Calling for a Deep-Sea Mining Moratorium, and a Global Parliamentarians Declaration Calling for a Moratorium. Whether or not governments bring that moratorium call to the 27th annual session of the International Seabed Authority (ISA) this month remains to be seen. 
Prior to the Conference itself, the scene was set at the Youth and Innovation Forum, where participants expressed their concerns about the adverse consequences of deep-seabed mining for future generations. UN Secretary-General António Guterres joined them on the beach, amid calls for action against deep-sea mining.  
I apologize to youth on behalf of my generation for not having protected the ocean.

This week's UN Ocean Conference will be key to find ways to #SaveOurOcean for the benefit of people and planet.

I count on young people's strength, dynamism and action to rescue our planet. pic.twitter.com/T0vGpqa5XX

— António Guterres (@antonioguterres) June 26, 2022
Actor and activist Jason Momoa, who plays Hollywood's 'Aquaman', shared his support for the movement and received a "No Deep-Sea Mining" banner from the young attendees. Momoa was later designated the UN Environment Programme's (UNEP).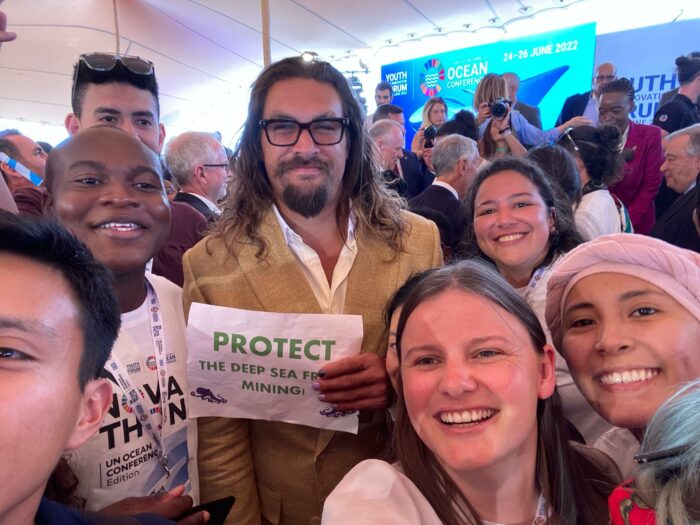 On Monday 27 June, official moratorium calls were raised by the Pacific Island states of Palau, Fiji and Samoa, and later supported by Guam. The Alliance of Countries Calling for a Deep-Sea Mining Moratorium was launched, while award-winning oceanographer and National Geographic explorer-in-residence, Dr Sylvia Earle, shared her concerns about deep-sea mining. 
On Tuesday, the momentum gained strength when representatives of the recently created Pacific Parliamentarians Alliance, led by Ralph Regenvanu of Vanuatu and Debbie Ngarewa-Parker (Maori Party, New Zealand), among others, met with Members of the European Parliament (MEPs), which has itself called for a moratorium since 2018. Marie Toussaint MEP launched a Global Parliamentarians Declaration Calling for a Moratorium on Deep-Sea Mining, which already has support from 146 parliamentarians across 42 countries. 
Strong precautionary warnings were issued by the scientific community in an event organised by the Deep-Ocean Stewardship Initiative. Scientists Dr Diva Amon and former Portuguese Minister of the Sea, Ricardo Santos, stressed the benefits of deep-sea biodiversity to human life and other life on Earth, as well as the threats it is facing.  
Intergenerational panel on why we cannot begin deep sea mining until or unless the science shows that we will not cause harm to the fragile deep sea ecosystems that we are mandated to #protectandpreserve (not only explore and exploit) #DefendTheDeep #keepitinthedeep #lookdown pic.twitter.com/NB2AY5NRmA

— Bobbi-Jo (@BobbiJo_Dobush) June 30, 2022
On Wednesday evening, an external event, the Blue March for the Climate and the Ocean, seconded this call for a precautionary approach on deep-sea ecosystems. Among the messages the march sought to share and spread were "Keep it in the ground!" and "No deep-sea mining!". 
Unexpectedly, French President Emmanuel Macon echoed deep-sea protection demands and called "for a UN legal and robust framework to ban deep sea mining in the high seas, and push exploration for sustainable knowledge outputs". President Macron noted that "We have … to create the legal framework to stop high sea mining and to not allow new activities putting in danger these ecosystems." His statement was all the more surprising given France's recent position on deep-sea mining. In presenting France's 2030 investment plan at the end of 2021, President Macron stated that deep-sea exploration is a priority, with a focus on France's overseas departments, French Polynesia, New Caledonia and Clipperton. In addition, France sponsors two deep-sea mining contracts with the ISA. It remains to be seen how President Macron's call for a ban will be formalised and whether other European countries will follow suit, given the prominent role of some European countries (Belgium, Germany, France, Poland, Portugal, Norway and UK) in deep-sea mining.  
French Polynesia's Minister for Culture and Environment, Heremoana Maamaatuaiahutapu, was next to explicitly declare himself against deep-sea mining to safeguard the interest of future generations. He reiterated his previous statement that "if we have to examine what's on the ocean floor, it should be solely for the acquisition of knowledge, not for exploitation purposes".
Now is the time to put words into action. The 27th annual session of the International Seabed Authority is set to begin shortly, with the ISA Council meeting on 18-29 July, and the Assembly bringing together 167 states and the EU from 1–5 August. Countries that have allied themselves with the moratorium should ensure that it is firmly embedded on the negotiation agenda, while the global Parliamentarians Alliance will be crucial to build support from many more national governments. Together, these actions can awaken the ISA and transform pro-mining sentiment into strong and lasting deep–sea protection. 
---
Posted on: 6 July 2022