Seas At Risk, together with its NGO partners in the Rethink Plastic Alliance, has sent an open letter to the President of the European Parliament, Antonio Tajani, challenging the Parliament to move from rhetoric to practice and stop its use of enormous quantities of plastic water bottles.
During its negotiations with the Council on waste legislation, the European Parliament adopted an ambitious stance on a circular economy and the need for reduced waste generation. Despite this position, a vast number of single-use plastic water bottles are still visibly used in all European Parliament meeting rooms.
The Rethink Plastic Alliance is challenging the European Parliament to lead by example and switch to readily available reusable alternatives in its facilities. More specifically, it calls for a ban on the use of single-use plastic water bottles in meetings, events and cafeterias, in favour of reusable water jugs and glasses, or water dispensers.
The challenge launched by the Rethink Plastic Alliance directly follows its first letter, sent one year ago, which conveyed the same message to the Presidents of the European Parliament, the Commission and the Council.
While the European Commission has publicly stated its commitment to reducing single-use plastic and becoming more sustainable in its use of necessary plastics, and has taken measures to achieve this, the Parliament has not yet taken a similar position publicly in respect of its own plastic use.
*The organisations which form the Rethink Plastic Alliance are ECOS, the European Environment Bureau, Environmental Investigation Agency, Friends of the Earth Europe, Seas At Risk, Surfrider Foundation Europe, Zero Waste Europe and ClientEarth.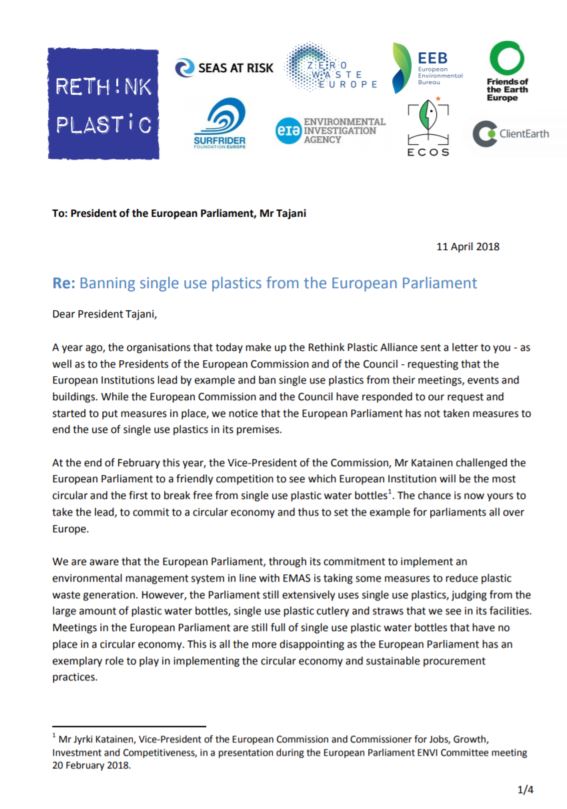 ---
Posted on: 11 April 2018