Join Seas At Risk's Dr. Lucy Gilliam for a panel debate where experts and policymakers will convene to debate shipping (including fishing vessel), decarbonisation, and the need to revise both the International Maritime Organization and EU shipping proposals to bring them into line with the latest climate science.
Register and view the complete program online
When? 12 November, 2022 at 8:30 CET
Where?  Online in the COP27 EU Pavillion
This event will bring together speakers engaged at the International Maritime Organization (IMO) and in EU shipping policy to discuss the need for an urgent and transformational shift in the shipping industry to raise ambition, meet climate targets and protect blue carbon. The event will discuss the risks of climate tipping points (particularly important to maritime infrastructure and coastal communities), and the need for shipping's green transition to include support mechanisms for climate-vulnerable and the least developed countries. Presentations will detail the current emissions gap between what IPCC says is needed and what is currently on the table at IMO and elsewhere, and suggest how that gap can be plugged.
Seas At Risk's key asks:
Ships must meet Paris agreement climate action goals and limit heating to below 1.5 degrees and halve emissions by 2030
Legislation that makes clean fuel and filters (as used on land) mandatory for ships to stop black particle emissions
A stricter efficiency standard at IMO, as to align with meeting Paris agreement goal of limiting warming at 1.5 degrees
Inclusion of climate vulnerable countries in plans
Obligation of rich countries to support developing countries in the transition to clean shipping
Emphasis that the IMO is not the only forum that can clean up shipping, and that local, national, and international bodies must collaborate to find suitable solutions
Speakers: Dr. David Armstrong McKay, Earth Commission and visiting researcher at University of Exeter & Stockholm Resilience Centre, Dr. Lucy Gilliam, Seas at Risk and Clean Shipping Coalition, Dr. Sian Prior, Clean Arctic Alliance, Rebecca Hubbard, Our Fish, Maria Sahib, Consultant with Mallahi Seas PVt Fiji.
This side event will be chaired by Aoife O'Leary, Opportunity Green.
Watch the event recording here.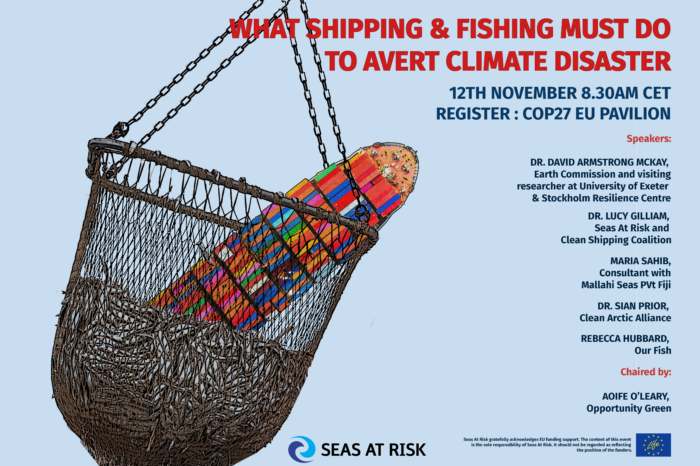 ---
Posted on: 3 November 2022