2019 saw global awareness of marine plastic pollution and single-use plastic grow exponentially, and 2021 will likely see similar focus on microplastics. 2021 has already seen a series of important steps building momentum towards regulation of the release of microplastics in the environment. In January, the Commission confirmed that impact assessment studies had begun, with a public consultation to take place during the coming spring and summer. This week the EU Chemicals Agency (ECHA) published a proposal for the wide restriction of microplastics intentionally added to products. This is just the beginning.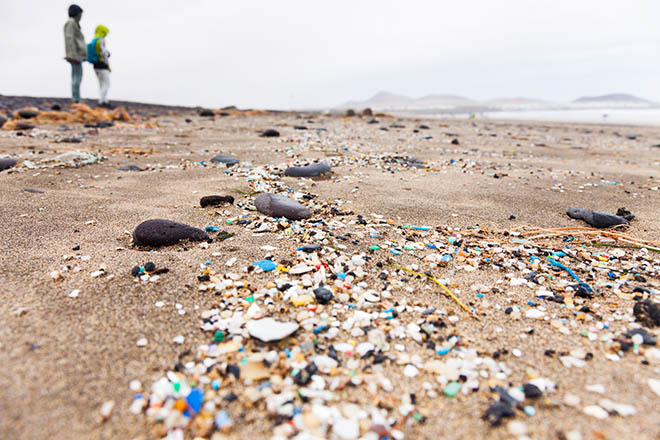 Following a request by the European Commission, the ECHA has published its proposal for an EU-wide ban on microbeads – microplastics (and nanoplastics) intentionally added to cosmetics, sanitary products, paints, pesticides, detergents and sports pitches.  According to the ECHA, all microbeads could be phased out, provided sustainable alternatives are identified. However, long transition periods are envisaged, with individual sectors pushing hard for exemptions, resulting in a plan with major loopholes . The European Commission must keep high the ambition in respect of what will be landmark EU legislation to fight plastic pollution.
Microbeads are only the tip of the iceberg. Most microplastics are not intentionally added and thus cannot be reduced at source. In fact, almost 80% of microplastics are estimated to be released into the environment by the degradation of consumer or industrial plastic products, particularly fishing gear, synthetic fabrics, tyres, shopping bags, polystyrene containers, food packaging and water bottles. As a result, the microplastics most frequently found in marine life and ecosystems are fragments and fibres from widely used plastic products. These microplastics harm marine ecosystems and animals, not only via direct physical impacts – for example, filling marine birds' and animals' stomachs, which leads them to starve – but also through indirect chemical poisoning caused by the additives released during plastic degradation.
The European Commission plans to develop regulations to tackle the microplastic environmental challenge, which will ideally apply to all microplastics released into the environment. In a hopeful sign, Commisioner Sinkevicius recently declared that the Commission is targeting all microplastics, not just intentionally added microbeads. This political commitment has been confirmed by a series of Commission-launched investigations into microplastic particles released from pellets, textiles and tyres.
2021 will pave the way for microplastic regulation that will contribute to making the ocean clean and healthy. It is crucial that ambition remains high during the overall political process and all microplastic sources should be covered by mandatory legislative measures.
Plastic producers can no longer afford to ignore the long-term impact of global microplastic pollution of our land and ocean but must be obliged to phase out the worst-performing materials in order to tackle the multiple environmental and health impacts of their products. Consumers should be informed about products containing plastics or microplastics, the toxicity of certain added substances, and sustainable alternatives. Any new regulation must take these aspects into account if it is to represent a substantial step towards a clean ocean.
Every organisation working to fight plastic pollution should make its voice heard by participating in the public consultation that will be launched by the European Commission over the summer months. A substantial number of responses will increase pressure on the European institutions to deliver on their ambition, as well as providing the Commission with positive ideas on how to prevent the massive release of microplastics into the environment.
---
Posted on: 26 February 2021