As of today, public authorities, businesses, and local communities across Europe have a new valuable tool at their disposal to help them in the fight against plastic pollution. Seas At Risk has launched a multilingual interactive map offering over 150 best practices to reduce and phase out single-use plastics. The solutions shown have already proved to be effective, and can be easily replicated in other regions or developed on a wider scale. They have been collected from 27 European countries thanks to the contributions of member and partner organisations across and beyond the Seas At Risk network and the Break Free From Plastic movement. The solutions can support Member States and national stakeholders in implementing the Single-Use Plastic Directive, which is now being implemented by most EU countries.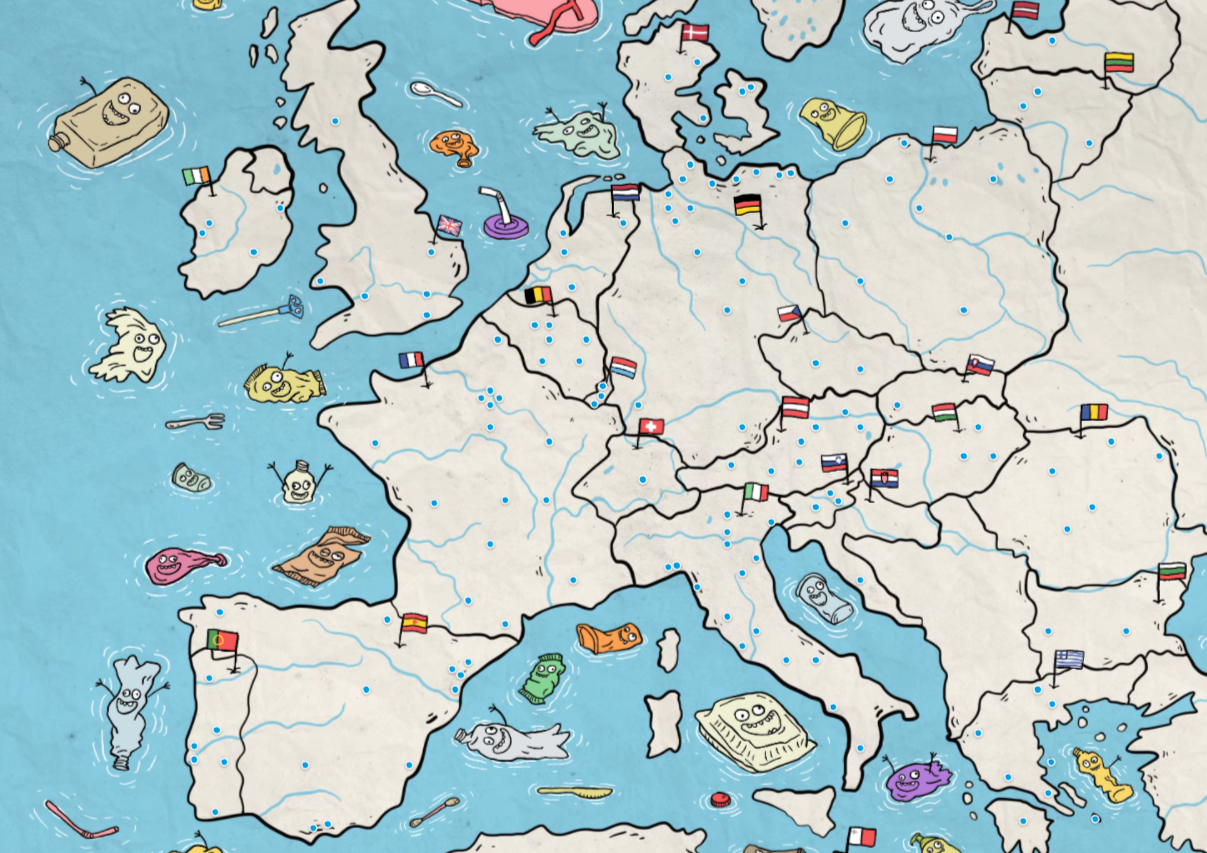 Over the past decades, plastic pollution has become a major threat to the environment, in particular to marine life. This is a growing concern for citizens and public authorities throughout the world. An appalling 8 million tons of plastic waste enters the ocean every year, killing an estimated one million marine birds and 100,000 marine mammals world-wide due to plastic ingestion. Plastic pollution in the ocean contaminates water and threatens marine ecosystems for centuries, before it eventually – if at all – degrades.
Cleaning the ocean of plastic is impossible. The only way forward is systemic change that tackles plastic pollution at source. According to a study published by Seas At Risk in 2017, "Single-use plastic and the marine environment", the most recurrent marine litter found on European beaches are single-use plastics and discarded or lost fishing gear.
With global production of plastics rising steeply, adopting effective solutions to prevent plastic from polluting the open environment has become crucial. The European Union has been a front-runner in the fight against plastic pollution with its Plastics Strategy and the adoption of the Directive on the reduction of the impact of certain plastic products on the environment, also known as the Single-Use Plastics Directive. This legislation, adopted in July 2019, aims to reduce marine plastic pollution by 70% and targets the top ten most polluting plastic items in the EU. It bans a series of disposable plastic products such as plastic plates, polystyrene food and drink containers, cotton buds, plastic straws, stirrers and cutlery. The Directive also requires Member States to: achieve ambitious consumption reduction targets for other items such as cups and food containers; to apply extended producer responsibility for food and drink containers, tobacco products and wrappers; and to achieve a 90% collection rate of single-use plastics bottles.
The multilingual interactive map serves as a platform where Europeans can share effective projects to reduce single-use plastics. It is a tool where communities can seek inspiration to move towards a lifestyle that is more respectful of our ocean, our planet and ourselves.
---
Posted on: 1 July 2021